FOREMOST UNVEILS "CHAMOORITA" IN NEW LOCATION - Archived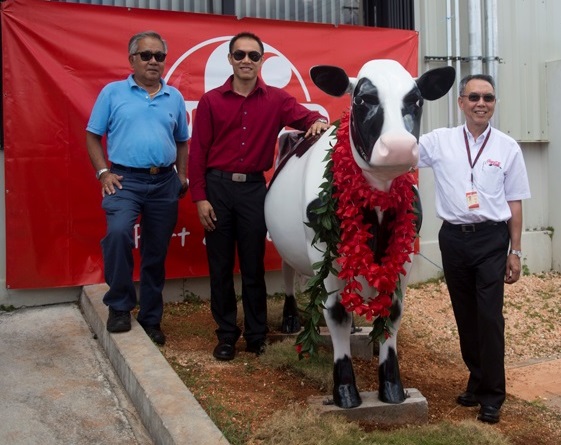 Pictured L to R – Joe Collado, Plant Manager; Marcos Fong, CEO of Foremost Foods, Inc. & Coca-Cola Beverage Company (Guam); and Ernest Mak, Director of Operations, Foremost Foods, Inc. & Coca-Cola Beverage Company (Guam)


Beloved Island Icon finds a new home at the company's Barrigada Heights location
(Thursday, February 19, 2015; Barrigada Heights, Guam) Foremost Foods, Inc. welcomed a familiar face to their offices today with the unveiling of a refurbished Chamoorita, the company's iconic cow statue. The Foremost mascot is now permanently installed at the front door of the company's warehouse and distribution center in Barrigada Heights where she will be able to greet people at eye level for the first time.


For many years, Foremost Foods's famous cow stood watch over Marine Corps Drive, providing a cheerful landmark for the company's offices and facility. Two years ago, when Foremost and the group of companies moved to their new location, Chamoorita was removed from her platform above the billboard and put out to pasture.


However, it wasn't long before stories began reaching Foremost about how much the cow was missed. "We would receive messages on the Foremost Facebook page, from people telling us how much they missed seeing her and asking where she was," said CEO Marcos Fong. "We realized that Chamoorita had become an island icon and we needed to bring her back."


The first time the cow appeared as a representative for Foremost Foods was as part of a print advertising campaign in January 1979.She made another comeback in 1981, appearing in print ads again. It was clear that the cow had appeal, but what she didn't have was a name. In the mid-1980s, Foremost Foods launched an island-wide contest in the public elementary schools and the winning submission was: Chamoorita.


Chamoorita has been embraced by the island and Foremost Foods is proud to have her back. "We wanted to find a special place for her," said Fong, "a place where people could interact and take photos with her. We hope everyone is as happy to see Chamoorita back as we are."


For more information about Foremost Foods, Inc., please visit our website at www.foremostguam.com or connect with us on Facebook, Twitter, or Pinterest.