75th Guam Liberation: Coca-Cola and Foremost named exclusive beverage sponsors - Archived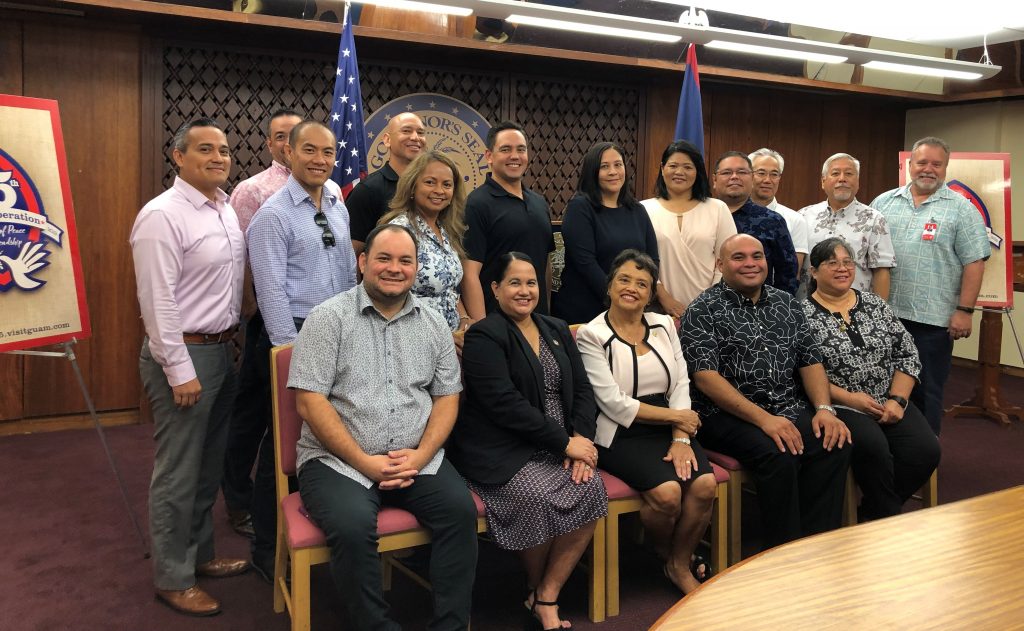 Gov. Lou Leon Guerrero (seated, center) and the steering committee of the 75th Guam Liberation co-chaired by Lt. Gov. Josh Tenorio (seated, second right) and Legislative Speaker Tina Muña Barnes (seated, second left) lead the announcement of the corporate sponsors at the press conference in Adelup on May 30, 2019. Marcos W. Fong (standing, second left), CEO, and Mike Brown (standing, far right), regional sales director, Foremost Foods, Inc. and Coca-Cola Beverage Co. (Guam), Inc., represent the beverage companies designated exclusive beverage sponsors of the 75th Guam Liberation.
BARRIGADA HEIGHTS, Guam—The region's leading non-alcoholic beverage companies, Coca-Cola Beverage Co. (Guam), Inc. and Foremost Foods, Inc., have been designated as  the Exclusive Beverage Sponsors of the 75th Guam Liberation.
As the exclusive beverage sponsors, Coca-Cola and Foremost will provide hydration at all of the activities comprising the 75th Anniversary of Guam Liberation commemoration including the 13 Memorial Events, the nightly Carnival at Paseo, and the Liberation Parade.
The sponsorship underscores the enduring relationship between Guam and Foremost, that dates back to the year 1949 when Foremost was established on Guam in the early years of recovery following World War II to serve primarily the needs of military personnel. At the request of then Gov. Carlton Skinner, the company expanded its operations to serve the civilian population in 1950.
From its humble beginnings operating a small factory in the vicinity of Marbo near Andersen Air Force Base, Foremost has now grown to be the leading beverage company in the region, distributing dairy products, purified drinking water, ready-to-drink coffees, and a wide array of Coca-Cola beverages to the Western Pacific including the Northern Marianas, Palau, Majuro, Chuuk, Kosrae, Pohnpei, and Yap.
Marcos W. Fong, CEO, Coca-Cola Beverage Co. (Guam), Inc. and Foremost Foods, Inc. said, "The histories of Foremost and the island are so intertwined, it is a duty for us to support this important anniversary. Our company's reason for being has always been to service the people of Guam and we are proud of that heritage."